HENNING KOPPEL – 1041
Making of a Master-Piece
Made by the hands of a single Georg Jensen silversmith — an unparalleled expert in Koppel's exclusive masterpieces and the only one possessing the skill set to make this unique silver piece — the 1041 is hand-hammered from a twelve-kilo sheet of fine silver and hand-polished to a silk matte finish, a trademark of Koppel's silver designs. The final result is weighing in at an impressive 7.7 kilos and measuring 74 cm (L) x 45 cm (W) x 24 cm (H). Every 1041 will feature a number and an imprint of Henning Koppel's signature, alongside the Georg Jensen logo. Though Georg Jensen has a longstanding tradition for working in sterling silver, it was deemed necessary to use fine silver (which has a purity of 99.9%) for this new endeavour. This even more premium version of the precious metal has a softer texture which is a prerequisite for achieving the correct thickness and crafting the complex curves of this breath-taking sculptural design that stands out as a piece of pure silver art."
ELMGREEN & DRAGSET X GEORG JENSEN
Elmgreen & Dragset X Georg Jensen invite you to put your phones to bed
Explore the making-of 'The Bed', a Wallpaper* Handmade X project intended to protect lovers from digital interference
GEORG JENSEN – Offspring Collection
An elegant, egg-shaped oval—a universal symbol of love, harmony and evolution—is the unifying shape that appears across this striking collection designed by Jacqueline Rabun.
We have been collaborating with Georg Jensen since 2016 in the ongoing effort to keep providing high quality content documenting in video the marvelous productions and collaborations that this iconic Danish Brand keeps putting out there.
From ZAHA HADID to BaselWorld, from HENNING KOPPEL to VIVIANNA TORUN passing through the ELLE Style Awards.
A selection of our productions can be found below. (More To Come Soon)
Realization of a short film following the craftsmanship process behind the custom sculpture of the VORTEX from Vivianna Torun for the ELLE Style Awards.
Social Media engagement film and animation realized for the opening of the 2016 Elle Style Awards event.
GERORG JENSEN x ZAHA HADID
Architect Zaha Hadid has designed a collection of silver jewellery for Danish design house Georg Jensen, including a twisted cuff and a ring that fits over two fingers (+ slideshow).
Video recap of the evening, event and gala dinner by Georg Jensen.
ZAHA HADID x Georg Jensen
BASELWORLD 2016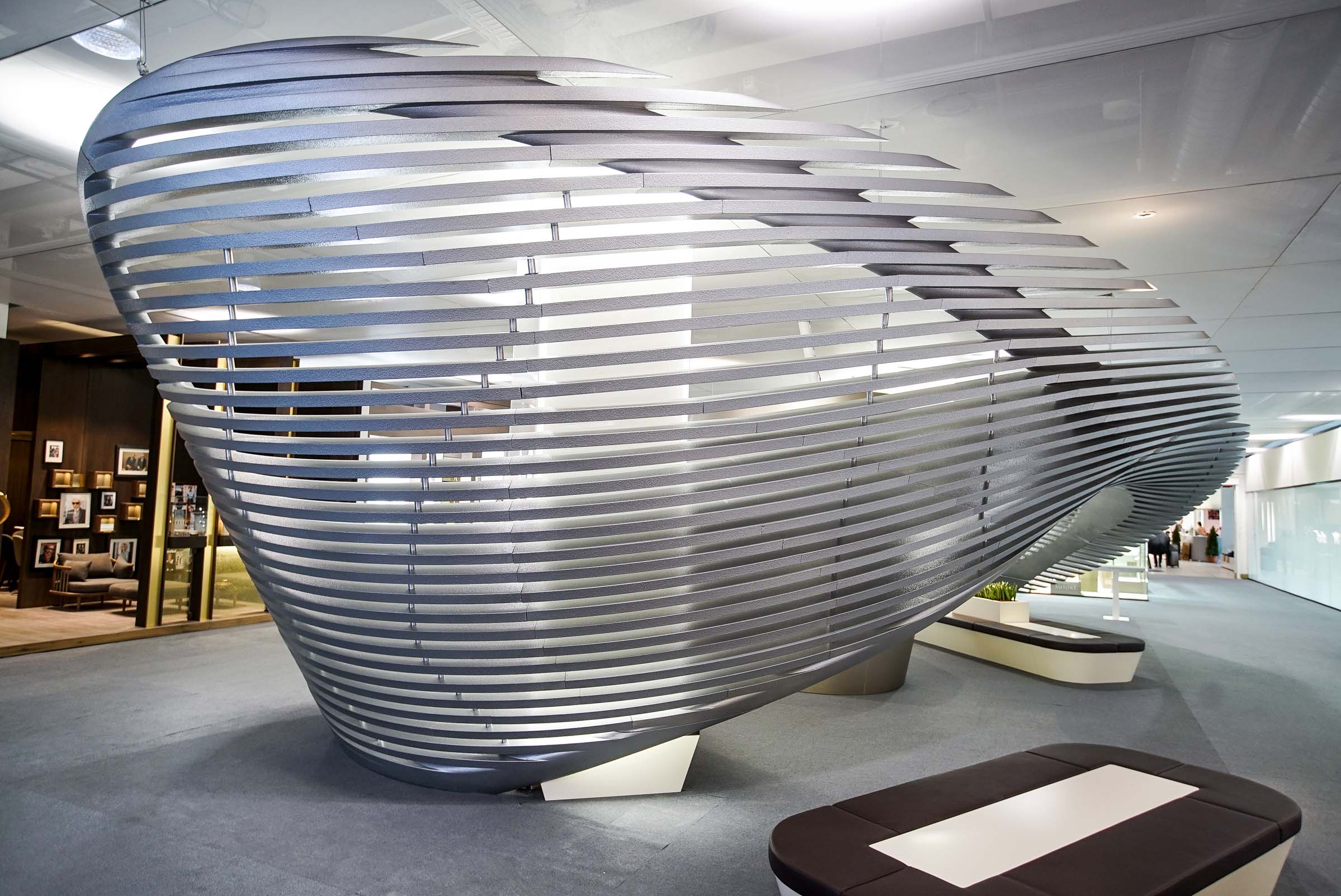 We covered the conception and build-up of this marvelous installation by world renowned architect Zaha Hadid for GEORG JENSEN in occasion of Baselworld 2016.
via designboom
british architect zaha hadid has realized a dynamic installation for danish design house georg jensen, marking their collaboration on a collection of jewelry. at baselworld 2016, an international marketplace and trendsetting show for the watch and jewelry industries, hadid has created a site-specific sculptural structure that serves as the backdrop for an informal guest lounge. a sweeping silhouette of silver fins undulates above visitors and wraps around architectural supports, while free-form seating arrangements offer a destination that is both inviting and relaxing.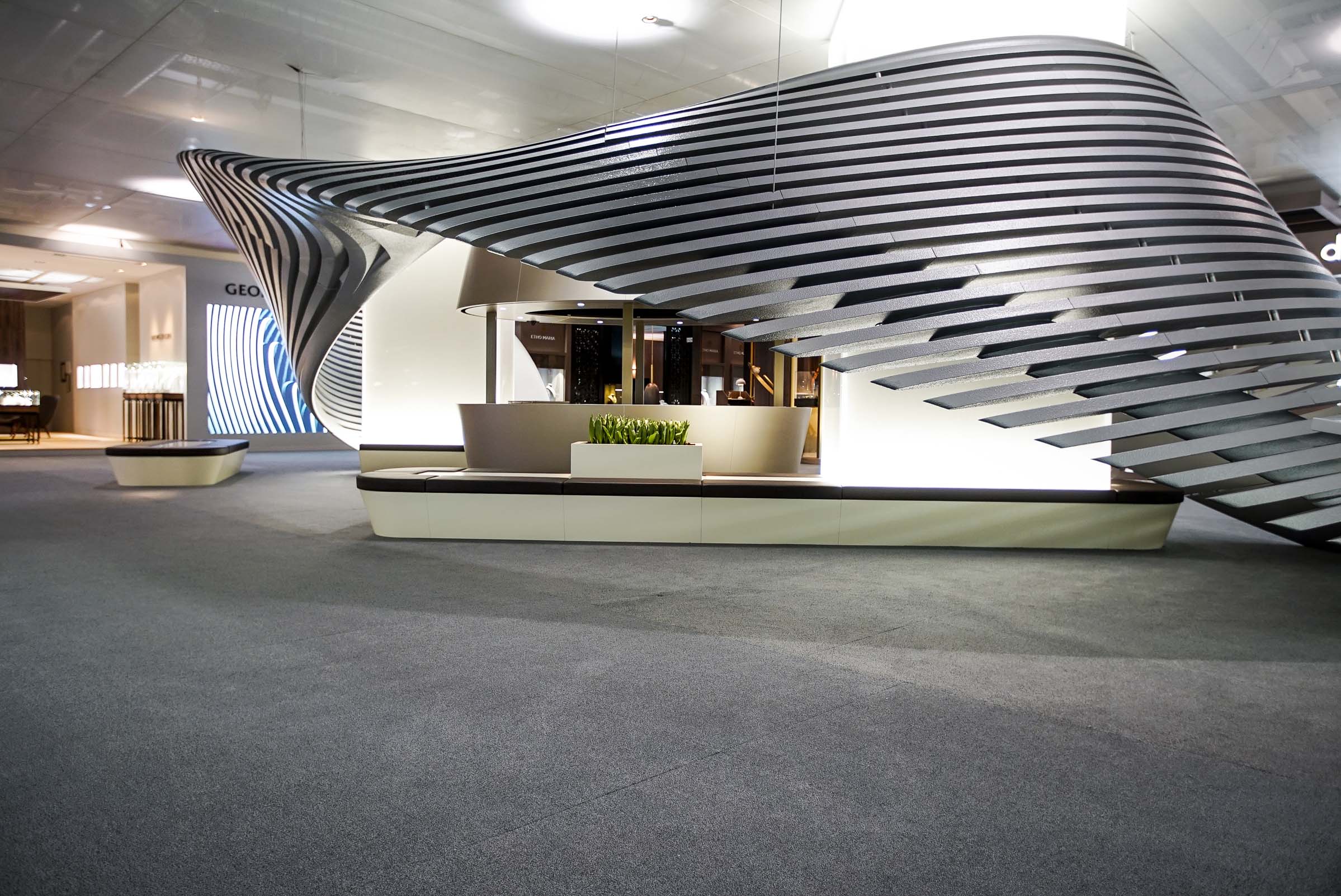 'this installation is inspired by my jewelry collection with georg jensen,' hadid says. 'it is referenced by the coherence and beauty of natural systems and informed by the fluidity of my own architectural language. working with georg jensen presented an opportunity to express our ideas in different scales and through different media. our starting point was the danish house's design links to nature. there is an inherent integrity within the organic structural logic found in nature and we often look at the coherence of natural systems when we work to create environments. our challenge was to translate that into something that can be worn; to reinterpret the rich history and tradition of georg jensen's design approach into something new.'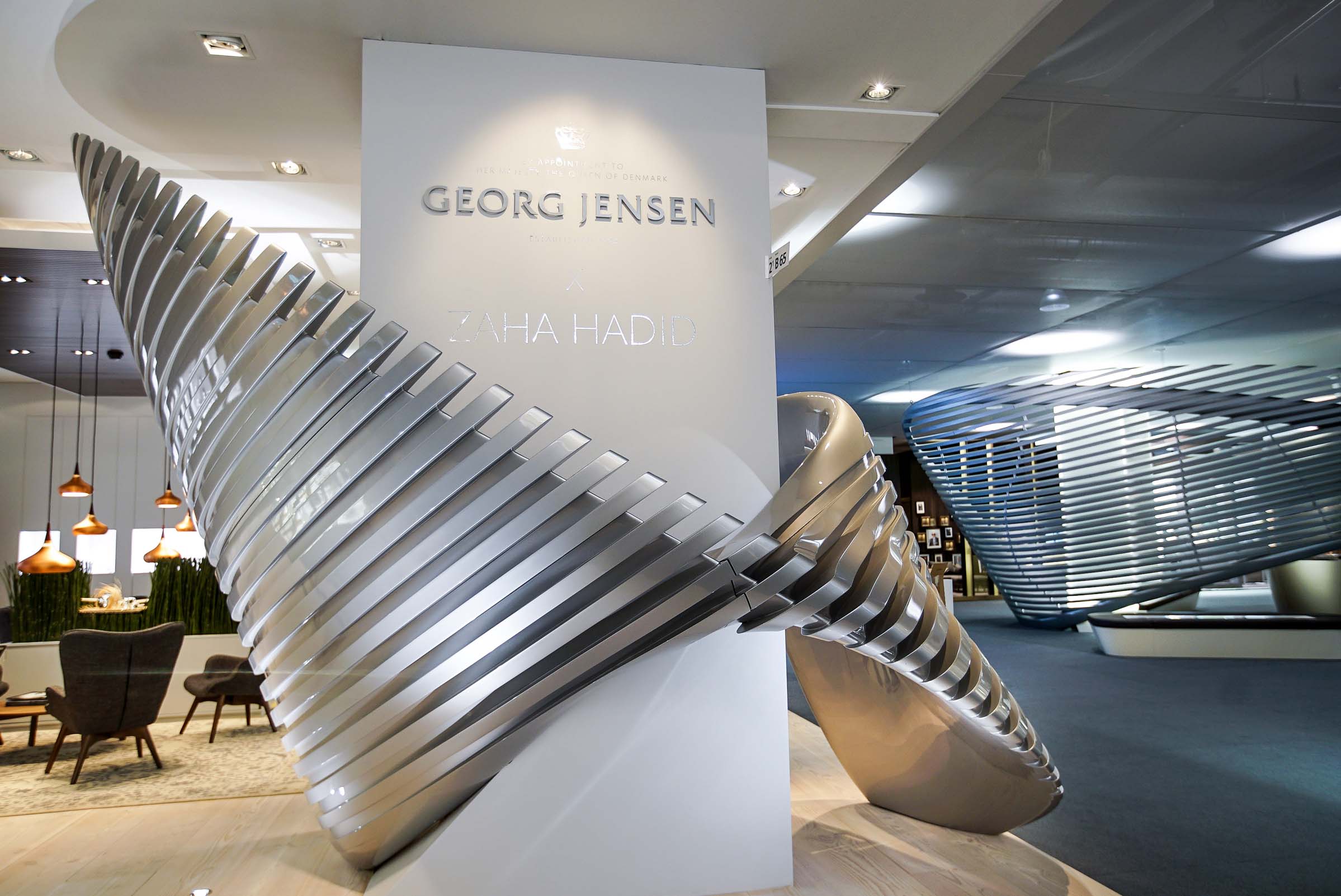 Hadid's architectural installation is drawn from the expressive forms realized in her highly-anticipated jewelry line, previewing exclusively at baselworld this year. the collection includes five rings and three bangles, crafted in both sterling silver, and black rhodium set with black diamonds. 'we are proud to continue a legacy of partnering with some of the most visionary designers of the times,' said david chu, chairman and chief creative officer of georg jensen on creating a memorable experience for attendees. 'the visual impact of zaha's installation will transform the space and beautifully play off her new jewelry collection.'